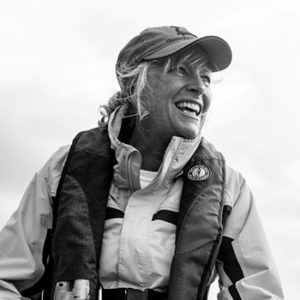 This article originally appeared in Atlantic Boating Magazine in June 2022. 
For more than 20 years, Pat Nelder has been one of the biggest promoters of sailing and boating in Atlantic Canada. Nelder, who served as the executive director of Boating Atlantic, formerly the Atlantic Marine Trades Association (AMTA), retired from that role on March 31. But Nelder won't be far from the water or promoting the sport she's loved since she first learned to sail in Scotland.   
Nelder joined AMTA as its coordinator in 1999. At the time, she was living in Big Pond, Cape Breton with her husband, Keith, and their two daughters, Allison and Dayna. Nelder owns and operates Big Pond Boat Shop with Keith. 
In her role with AMTA, Nelder, who previously lived in the Caribbean where she sailed and worked on charters, learned quite a bit about power boating and power boat businesses.  
"That was really interesting to find out what they did, what they thought, and how they carried on their businesses," Nelder said. "I always enjoyed everyone I met working in the industry in Atlantic Canada. They are such resilient characters. They work so hard to create these businesses. I think it's amazing." 
Boating Atlantic is the owner of the Halifax International Boat Show and organizing and promoting that show each year took up a considerable amount of Nelder's time and effort.  
"I hope through the boat show we were able to show that boating was a great and fun activity to do for a lot of Atlantic Canadians," Nelder says. "I worked quite hard on the safety aspect, just making sure everyone understood what was safe, and how dealers could work with safety as well."  
Catherine MacNutt worked with Nelder when MacNutt was the marketing and operations manager at Master Promotions. Together they spent countless hours planning every aspect of the Halifax International Boat Show, the largest boat show in Atlantic Canada, from the guide that was handed out to visitors to working all four days of the show itself.  
MacNutt says Nelder also cared about all the players in the industry and how they were represented at the show.  
"She has a really good ability in bringing together disparate groups of people and personalities and can make them feel comfortable in any given situation," MacNutt said. "She was able to find a common thread with those people, put them in one room, and could make sure they were networking with each other. I don't think they could have got there without her." 
Besides their working relationship, MacNutt says she enjoys Nelder personality and sense of humour.  
"We're kindred spirits," MacNutt says. "It's really nice to have the pleasure of working with someone you really like."  
Nelder says one of the best parts of her role was exploring new places to go boating. Over the years, she went boating in Notre Dame Bay in N.L., the Bras d'Or Lakes in Cape Breton, along the north shore of P.E.I., and the St. John River in New Brunswick. Still, one of her favourite places to sail is the Mahone Bay, N.S., which is much closer to her home in Martin's River.  
She says another highlight of her job was the people she worked with over the years, including every president of Boating Atlantic, the staff at Master Promotions, and the crew of Power Boat Television, which produced a few shows featuring boating in Atlantic Canada.  
These days, Nelder and Keith have several boat-building projects on the go right now. Nelder, who is one of the founders of the Indian Point Yacht Club, also recently took a course to teach basic sailing, so she hopes to teach new sailors. And she's been the on-water chair of the Helly Hansen Chester Race Week since 2017 and is now busy organizing this year's event. 
"I think the best part of that is when Race Week actually happens and there's all the energy of everyone coming to race," Nelder says. "I think that's so much fun. Whether you're attending it or working it, it's a super event. I'm looking forward to getting out and seeing the boats sailing."