4 days, 4 courses, 14 fleets, 140 sailboats, 1,200 sailors
For Halifax's Bethune family, "coming home for Race Week"
is an annual summer ritual spanning generations
Canada's largest keel boat regatta to welcome hard-core racers, casual cruisers,
classic wooden yacht lovers & tourists
CHESTER, NS (July 14, 2016) – The principal race officer of Chester Race Week – Canada's largest (North America's 2nd largest) annual keel boat race week – today issued the official 2016 Notice of Race marking the kick off for skippers eager to register for the event running from August 10 to 13 in the picturesque town of Chester, Nova Scotia.
One of the first to register every year is Halifax resident, surgeon, and second-generation Chester Race Week (CRW) veteran, Drew Bethune, skipper of the C&C 38 Mk 1, Showgirl.
"She was built in 1976, dad bought her in '78, and he won Race Week and everything else in the province with her that year – and this year we will be celebrating her 40th birthday," says Bethune.
Bethune was 12 in 1962 when he first crewed for his father, the late Gordon Bethune, on his Roue 20 in Halifax, and later on the Chester C Encounter 1.
"They were both beautiful, locally made wooden boats, and dad raced them hard – regardless of the weather. Racing with him forged a bond between us, and, with the arrival of Showgirl, Chester Race Week became the annual highlight of our time sailing together."
Gordon Bethune died before his grandson, Andrew, was old enough to be the third generation to race Showgirl. Andrew spent his summers learning to sail at the Chester Yacht Club, and at 13 joined his dad's crew for his first Race Week. That was 17 years ago, and he's never missed a Race Week yet.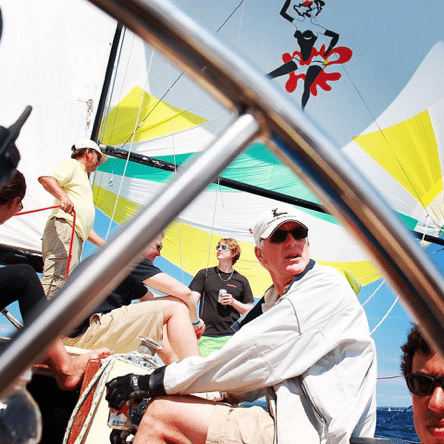 PHOTO: Drew Bethune (foreground, white cap) and his son Andrew (centre, black shirt) are two of the three generations to sail the C&C 38 Showgirl at Chester Race Week – uninterrupted – since 1978. (credit: Max Duerksen, hi res available on request)
"Chester Race Week is where our close crew of family and friends come together to reconnect each year through racing and sharing communal meals," the paramedic said from his home in Charlottetown.
"There's lots of socializing, so we are not as competitive as I hear my grandfather was. But the crew is together for four beautiful days – trimming sails, eating, telling stories and catching up with loved ones we don't otherwise get to see any other time but during Race Week."
Back in 1978, the reserved Gordon Bethune turned a few heads when he unfurled a spinnaker featuring the shapely curves of an 18-foot Las Vegas showgirl.
"When we set the spinnaker well during a race, someone always remarks how pretty she looks," says Andrew who had her tattooed on his sunburned right forearm in 2011.
"For me, she represents my connection to our family across three generations. I'm engaged and my cousin Jeff proposed to his girlfriend aboard Showgirl, so chances are good that a fourth generation of Bethune will continue our Race Week tradition. I think Grandpa Gordon would approve."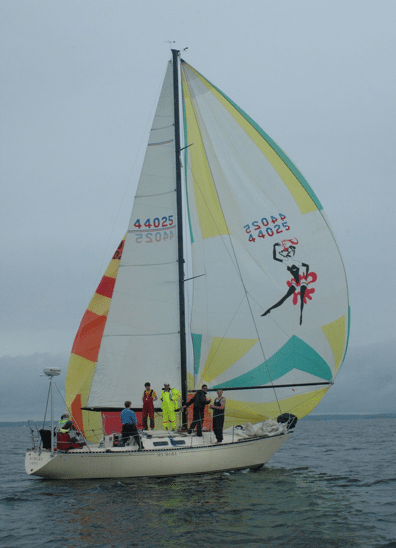 PHOTO: The Bethune family's C&C 38 Showgirl flying its trademark spinnaker during Chester Race Week.
(credit: Robbie Seyffert, hi res available on request))
About Chester Race Week
Chester Race Week 2016 is hosted by the Chester Yacht Club and boasts a race course for every skill level and boat class, daily events with live music, two food trucks, and the return of racing seminars from famed Canadian Olympian, Soling World and America's Cup champion, Andreas Josenhans.
"Recreational sailors and hard-core, competitive racers alike love Chester Race Week because we have diverse courses in a beautiful setting, and the results are so unpredictable – we strive to make racing competitive and fun," said Brian Todd, CRW 2016 Principal Race Officer. A Sail Canada-certified race officer, Todd has served in an elite leadership capacity with national and world sailing championships in Canada, the United States and Australia.
"Every morning of Race Week we try to set courses that are challenging, scenic and fair while avoiding boats from the other race courses, and the many islands and shoals of Mahone Bay; and if it's windy, we'll set reach legs so boats can try for personal best speeds," he said.
A seasoned sailor himself, Todd says he's always learning something new at Chester Race Week from Andreas Josenhans.
"Those looking to get an edge or fix a chronic problem are on the CYC deck each morning at nine to take advantage of Andreas' racing seminars. Listening to him can give racers a competitive edge in key areas from working with today's wind and rigging for super-light or super-heavy conditions, to crew communication and local course quirks."
Course – Fleets –  Race Officer
ALPHA – 1, 2, 3 – based on PHRF handicap rating <99 – Ken Legler (Medford, MA)
BRAVO – 1, 2, 3 – based on PHRF handicap rating >99 – Daniel Conrod (Halifax, NS)
CHARLIE – Bluenose One Design Ollie Bone – (Chester, NS)
DELTA – 1, 2 PHRF non-spinnaker, Classic boats – Daniel Conrod (Halifax, NS)
ONE DESIGN – J/24, Farr 30, Sonar, International (IOD) – Brian Todd (Halifax, NS)
What makes Chester Race Week unique?
Named one of Sailing World magazine's 14 greatest sailing events in North America, each August, 1,200-plus sailors arrive in Mahone Bay on Nova Scotia's scenic South Shore to compete in one of 14 fleets racing simultaneously on four different race courses.
Courses range in size from a 0.5 nautical mile windward-leeward course for the Bluenose class in front of the Chester Yacht Club, to the 20-plus-nautical-mile-long, off-shore distance course for big boats. The fleets can accommodate everyone from competitive one-design hulls to classic wooden boats and cruising boats racing without spinnakers.
"We don't finalize course designs until race day when we know the actual conditions and have confirmed our competitors' interests," said Todd, a Halifax native who takes the customer-service aspect of his job seriously. "We are constantly talking to our sailors so we can produce the kind of competitive courses they want to race."
Public welcome to come for the racing, stay for the fun
The public are welcome to watch the races from the dock or from inside the Chester Yacht Club, which is open to the public from 9am to 9pm daily. After 9pm, the live music continues inside. Wristbands are available for $20 to those 19 and over.
Wed, Fri nights: The Hopping Penguins
Thurs: Asia & NuGruv
Sat: Party Boots
Swim and sunbathe at Freda's Beach or in Chester's outdoor, salt-water lido pool
Shop, dine and tour the pretty Village of Chester
MEDIA PROGRAM
Media accreditation & contact: Heather Martin, M 902-809-4175, [email protected]
Daily race results: Race results release emailed and posted online daily after last race.
Media boat: A complimentary, hosted media-boat service is available to accredited media from Wednesday, August 10th to Saturday, August 13th.
Where: Departing Race Committee float (descend left ramp of CYC dock)
21 South Street, Chester, Nova Scotia
When: Departing daily at 11:30 a.m., returning to CYC by 3:30 p.m.
# # #
About Chester Race Week
Hosted by the Chester Yacht Club in the picturesque South-Shore Nova Scotia village of Chester in mid August each year, Chester Race Week is Canada's largest annual keel boat regatta and plays host to more than 130 boats from up and down the Eastern Seaboard.
The regatta was first documented in 1856 and has since been named one of Sailing World magazine's 14 greatest sailing events in North America. "Race Week" as it is known locally, sees tourists and locals alike taking in the natural beauty of the area by both land and sea. A community-based, volunteer-driven event, Race Week boasts a full schedule of public-friendly events with live music, great food, yacht races, plus racing seminars from internationally renowned sailors, tacticians, boat builders and sailmakers.
Visit www.ChesterRaceWeek.com.